And we call her Princess Ice Cream. Why is this so? Scroll down to see more pictures from her Family portrait session with us to find out why. It should be an easy guess. ;)
When Thereese first stepped into our studio, she looked uncertain and stared at us with her big, round and beautiful eyes, probably wondering if we were good or bad guys, haha. It was time for this sweet family of 3 to get onto our set, and Thereese was still quite hesitant. You can see how she was slightly holding back in the picture of her daddy and her above, which was taken at the beginning of their portrait session.
No doubt Thereese was shy, but all it took was some time for her to warm up to our games and silly actions, before she started to realise that photoshoots were not that scary and boring after all – not on our set, at least. ;) Then, she began to really enjoy herself!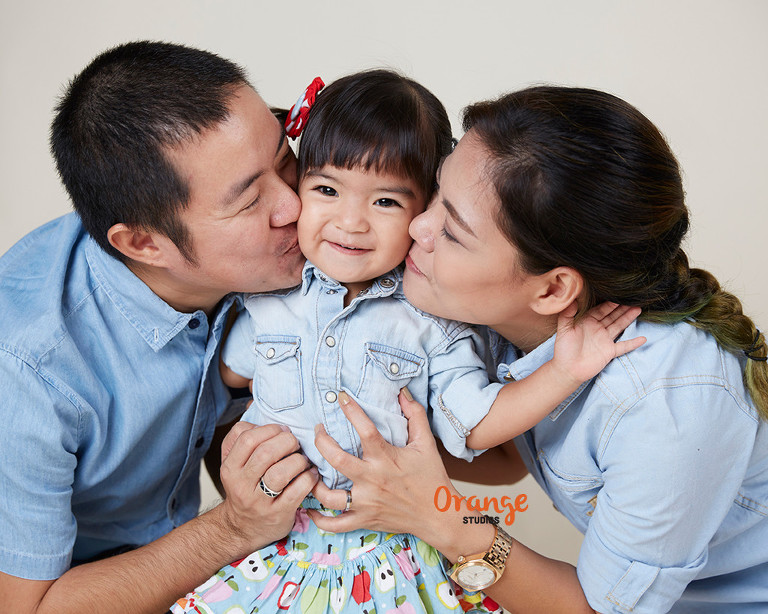 By now, have you figured out why we call her Princess Ice Cream? I'm sure you have an idea, don't you? ;) Thereese really loved her toy ice cream, and wanted it to be with her at all times. When a toddler has such a request, we can't possibly say no, right? Haha. And it is actually really sweet to see her holding the ice cream in most of the pictures. It showcases her interests at this point of her life, and will definitely be treasured memories for her to look back on in the future when she is older. More importantly, these portraits captured her unique personality – her cheeky grin, adorable frown, and her amazing smile. Most importantly, these portraits documented their family love, and how much joy this little girl brings to her parents. Priceless, we would say. :)
Is your little one shy when it comes to meeting new people too? If this is what is holding you back from bringing him/her to have your Family portraits done, we hope this peek into our Family photoshoot sessions puts your mind at ease! Our sessions are suitable for children of all personalities. Yes, we try really hard and put in our 200% effort to make your kids feel comfortable at our studio, even if we have to bring out the silliest of ourselves. :p
Call 8606 6950 today to book a play session for your family – our Family portraiture sessions are indeed pretty much a time for your family to play, have fun and bond together. The best part of it? You will have these beautiful moments to keep for a lifetime.