For those who have been following us on Facebook and/or Instagram, you would have seen our pregnancy announcement recently. Yes, Ryan and I are expecting our very first little bundle of joy!
We are always so happy whenever our mummy and daddy clients share their joy and excitement so openly with us, and allow us to be a part of their beautiful journey. Now it's our turn to share our joy with all of you!
Our baby cooperated extremely well during the ultrasound scan and we managed to find out his gender at the 19th week – we're having a boy! How well did he cooperate, you might think? Well, his legs were wide open the moment our gynae started the scan. ;)
After knowing our baby's gender, we decided to do our very own gender reveal portrait session, and here's sharing some of our favourites with you.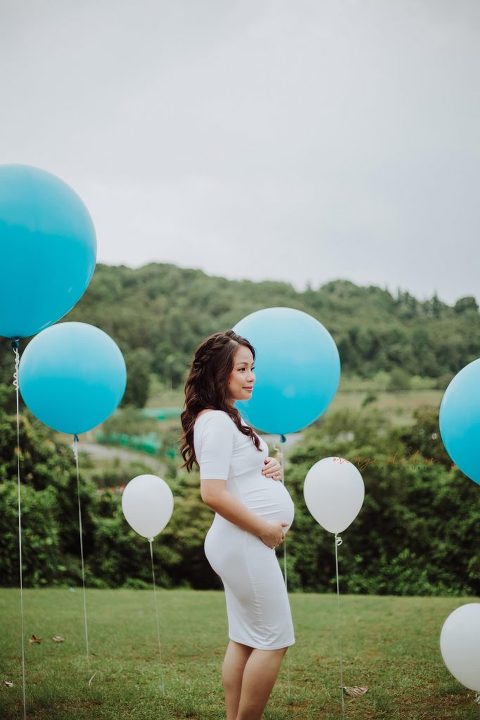 How was the entire experience for us, you may wonder? It was tiring, frankly speaking. (A different kind of tired from being behind the camera though.) But also amazing and fun, as we took this time to celebrate our growing family together. Looking at these photos, I really have no regrets having done this gender reveal portrait session. The anticipation, excitement and joy – it's so incredible that a brand new life is growing inside of me!
And I know this is gonna be life-changing for the both of us – as it is for any other parents, especially first-time mums and dads. From just the two of us, to having a new member in our family whom we are responsible for for the next 20-odd years, but who is also going to teach us and allow us to feel a whole new kind of love. I want to remember how our pregnancy journey, the beginning of parenthood, feels and looks like. If we hadn't gone ahead with this shoot, I then would have regretted.
So mummies who are still on the fence about having your maternity photos taken, go for it and have these beautiful and amazing moments documented! These are memories which you and your family would really treasure in time to come – it's totally worth it.
To know more about our Maternity portraiture sessions, call us at 8606 6950 to schedule a studio tour – we would love to meet and chat with you! And perhaps at the same time share pregnancy and parenting tips with one another? :)