This is indeed one of the most joyful families we have ever met on our set, and we consider ourselves blessed to be able to get to know them. :) From having two kids to three kids, it sure is challenging for most parents. Mummy Matilda and Daddy Isaiah were busy managing two young children and a newborn, but were still so cheerful throughout their photoshoot session. Yes, they were tired from the lack of sleep the night before and having to keep up with their active children in the day, but it was also a time of celebration and great joy, and we could really see it on their faces. As their family grew, so did the love in their hearts. :)
We are so glad that Mummy Matilda accepted our interview, to share about her family's journey of welcoming their third child, Baby Ahavah. Did you know that "Ahavah" means "Love" in Hebrew?
There are really so many valuable words of wisdom and advice in Mummy Matilda's sharing from her experience. Read on, and we hope that it inspires you.
---
Mummy shares
1. Are you a stay at home mum or a working mum?
I'm a stay at home mum who aspires to be an entrepreneur from home.

2. How did you and your husband feel when you found out you were expecting your 3rd child?
We were wildly excited! It was for us a miracle and gift from God to know they we had a third little one coming. She's everything we hope for and more! At the same time, there was some fear because the early days of pregnancy were not certain. But we have learnt that parenthood is one BIG step of faith, so we prayed hard and trusted with our hearts that God is the best keeper of our little baby.

3. Did you do anything to prepare your first two children for the arrival of their little sibling? If so, what did you do?
We told them the news earlier in the pregnancy and they accompanied us for most of our prenatal visits. They enjoyed watching the Obgyn scan my tummy to look at 妹妹 (little sister). Before each visit, they will talk to my tummy and ask Ahavah to wave or kick during the scan. It's very endearing watching them talk to 妹妹 (little sister) excitedly and wondering how she looks like.
When my tummy became more noticeable, we started talking about sharing toys and how Noah and Shanah will have to take care of the baby. Noah was really thrilled about his status 'promotion' and would pat and kiss my tummy lovingly.
I think the final weeks when we fixed the cot and packed the clothes really hit home for them. They watched as we took out their old clothes and toys and ask unceasingly if they were for Meimei (little sister).

4. How did your first two children cope with the arrival of their little sibling? Any changes now as compared to the first few weeks?
The transition from 2 to 3 was a little gentler because Shanah has been through it and Noah has his older sister to play with. Despite this, Noah was the one who wanted more attention. He didn't shout or kick up a fuss much, but he would come close and ask for more cuddles, or to be carried. When Ahavah was a few months old, Shanah told us that she wanted to be a baby too. I guess that must be her way of asking for attention.
All in all, the transition was smooth. They needed to be reminded to be quiet because the baby is sleeping, but most of the time they enjoy sneaking peeks and kisses at 妹妹 (little sister). We also got them involved in helping out when we change diapers or prepare for bathe. More recently, the older two help to apply soap on their sister when she bathes.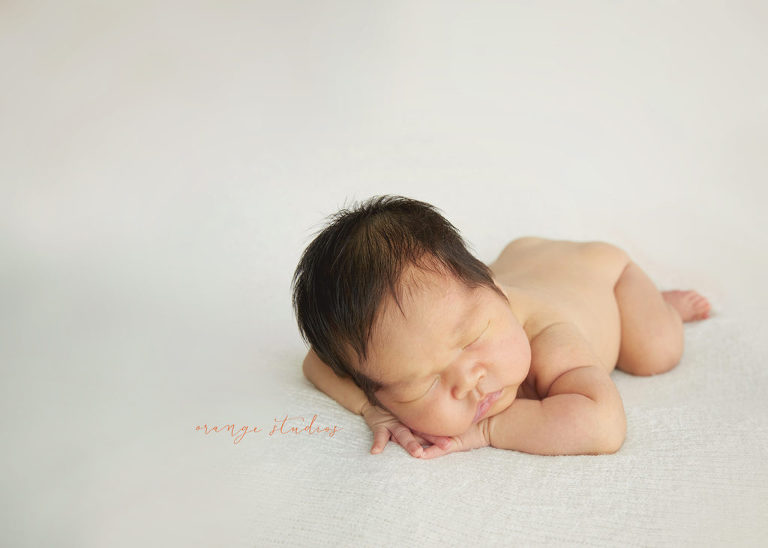 5. What made you decide to have a Newborn portrait session done?
Newborns are so so beautiful. A newborn baby signifies life – how precious, beautiful and dedicate it is. There is nothing like a newborn to remind you about God's love, and that it is nothing short of a miracle how a young baby can form from conception to birth. When I hold my babies' small fingers and toes, I imagine God forming them bit by bit, weaving them with love.
We thought that a portrait session was the best way to capture the newborn moments. I want to be reminded of their features, where everything is so small. Their button noses may still have milia on them and their little lips are so tiny. I love their tightly fisted fingers and curled up toes because in no time those fingers will start grabbing everything and those feet, toddling everywhere. That's why newborn portraits are important – they are our memory keepers, especially so in the early weeks where everything kinda happens in a fog.

6. How was your family's experience during the session?
We had a really great and relaxing time! I actually contacted Orange Studios after I have given birth and I was really surprised that they opened a slot for me within the next few days.
What I liked most was how fuss free everything was. Well, fuss free for us and work on their part. There was a call to discuss ideas and to ally any concerns we had. Prior to the shoot there was also an email to remind us what to wear and a list of stuff we can bring if we want (or we could also go empty handed).
What I was most worried about was feeding my baby. In the end, that was not a concern at all. The studio comes equipped with a family room that has cartoons for the older children and comfy seats to feed the baby. Anytime you feel that the baby needs some milk, we could pop in to nurse. How awesome!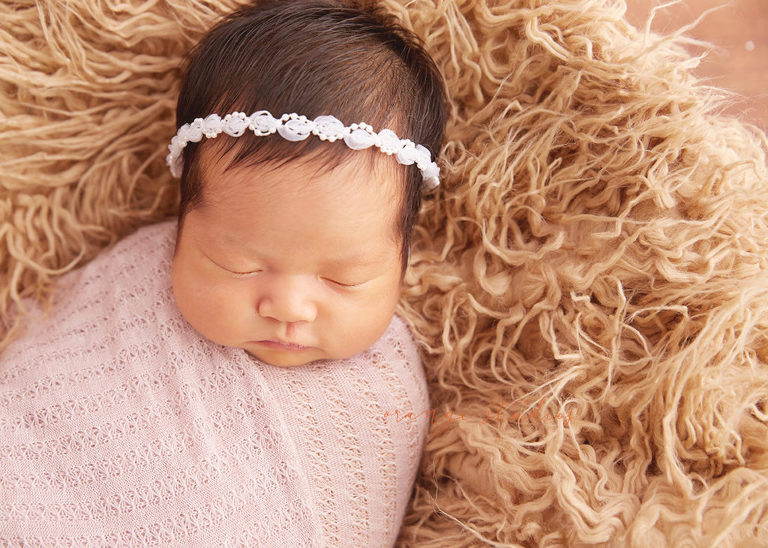 7. Would you encourage other families to have a Newborn portrait session done as well?
Definitely, it's so special to see how much they have grown in weeks and months. And plan for it early too, preferably before popping!

8. What is the difference going from 2 kids to 3 kids, as compared to going from 1 kid to 2 kids?
It's a numbers game and we are outnumbered. There's more mess, more laundry but exponential love! We love a bigger family because the children can play and grow together. There are so many times I wish I have a third arm, it would come in really handy while holding the baby. Hahah. My favourite moments are when they cuddle together for a book or just sit and play together. There are no words that can explain the goo my heart turns into during those moments.
We have to say that being parents to a newborn for the third time has taught us how to appreciate the baby more. Previously, we were kinda anxious and caught up with learning how to care for the baby. Now, we are more relaxed and spend more time enjoying the newborn stage, which is really lovely.

9. What is your greatest challenge/struggle coping with 3 children, and how do you manage/overcome it?
I felt that the largest challenge being a parent to three was giving each of them the attention that they need. A baby demands constant attention and the older children wants you to play and read with them. I'm very thankful for loads of help from the very hands-on husband and our family. It really takes a village to raise a child! This will be an ongoing challenge and we pray for wisdom to learn how to handle it.
Other than that, we are learning how to relax and enjoy the moment. It's natural to worry about money but those things don't determine the quality of life as a family. It's just about learning to enjoy each other!

10. What words of advice and/or encouragement do you have for parents who have 3 young kids
Don't compare and stress yourself up. Do what you feel is right in your heart for your family. It's tough not to feel caught up or left behind because everyone is doing something. But with more children, we really have to strategise and choose the right battles to fight. There will be good, bad and mediocore days – don't beat yourself over a day gone bad. Choose to see that tomorrow is a new beginning to try again.
Also remember that before we were parents, we were a couple in love. Try to take time away from the children to enjoy each other. If we can't have a meal, some ice cream when everyone is asleep or an episode of our favourite series is always good. Whatever works!


11. Parenthood is always an amazing and beautiful journey. What has been your most memorable moment with your children so far?
There are so many of them! For starters, each labour experience is memorable. Meeting the child for the first time after months of expectations and longing, I find that that gets to me more and more with each pregnancy. I get more marvelled by God's creation and how this cannot be anything but a miracle.
Watching them sleep with very angelic faces; I always feel bad for scolding them when I watch them sleep. Watching them play together, hug and cuddle – it makes all the crazy juggling and octopus act worthwhile, because we know that they are growing up together. And witnessing the joy they bring to their grandparents and great grandparents. Children really brings a family together like few things can.
What makes us very proud is when they do the right thing in our absence. I swell in pride when someone tells me that the older ones share or care for others – it gives me some encouragement that we are doing some things right.

12. Are there any other things you would like to mention or share about your parenthood journey and experience?
Listen to your children in how they need you to love them. Love their love language and that of your spouse as well. A happy marriage is the greatest gift for the child!
---
The beautiful canvas wall art proudly displayed at their home now. <3
It has been awhile since Baby Ahavah's newborn photoshoot session with us, and the three lovely kids have grown so much. Thank you Mummy Matilda for sharing with us the two adorable photos below!

Mummy Matilda's sharing really touched our hearts. And we especially love what she reminded all of us about our marriage:
"Also remember that before we were parents, we were a couple in love. Try to take time away from the children to enjoy each other. If we can't have a meal, some ice cream when everyone is asleep or an episode of our favourite series is always good. Whatever works! … A happy marriage is the greatest gift for the child!"
This is so true, indeed.
We hope Mummy Matilda's generous and sincere sharing touched your heart as much as it touched ours, and that it encourages and inspires you in your own journey of parenthood ahead. :)