Baby Liam was one of the most alert babies we've ever photographed – he stayed wide awake almost the entire session! But thankfully he didn't fuss at all. *heaving a huge sigh of relief* :p Don't get us wrong. Although we usually prefer sleepy newborn babies (because they are easier to pose), we love awake babies too! They have so many different expressions and actions – some cute, some funny, some melt your heart completely – and all parents always end up loving the awake photos as much as the sleepy ones.
Baby Liam only fell asleep towards the end, during the family portraits. Before that, he was just in a very pensive mood, probably thinking about life and what was going on during his individual portraits. :p
Cuteness overload up ahead – you've been warned. ;)
To our sweet surprise, Liam began to doze off while we were wrapping him up in preparation for family portraits. Perhaps he preferred the material of the last wrap? Or perhaps he finally trusted us enough (after surveying us for 2 whole hours :p) to fall asleep? Heh.
Some parents have asked us whether they can join their baby in the photoshoot. To us, portraits of parents and their newborn baby are always the most precious and important ones. Your newborn portrait session is about celebrating your growing family, so daddy and mummy must be in the photographs! ;) This is a time which you will never ever get back, and we would hate for you to miss the opportunity to have these once-in-a-lifetime moments documented so that you can always look back at them. Just relax, enjoy your family time and leave your first family portraits to us.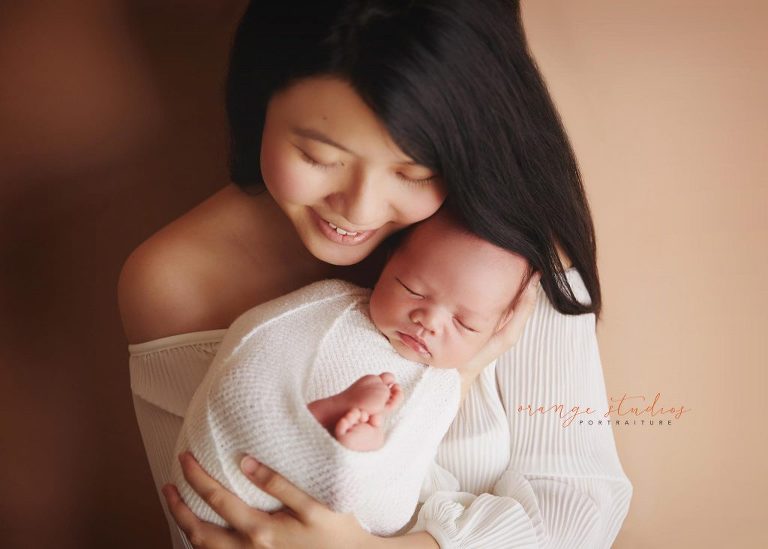 Some of you may have recognised this beautiful mummy – Shuying, the founder and chief stylist of MerryLove Weddings. They are an amazingly talented team of people who specialise in styling for celebrations. We personally are huge fans of their work and have worked with them for a couple of our themed shoots!
Daddy and mummy are also long-time friends of ours. So you can imagine how especially happy and touched we were while we photographed them. <3
If you are welcoming a new addition to your family and would like to celebrate this amazing time of your family's life on our set, give us a call at 8606 6950 – we would love to chat with you.