We are always excited whenever parents commission us to document an important milestone in their little one's life. More importantly, it is an extremely great privilege of ours to be trusted by parents, to help them preserve these precious moments in portraits which will last for a lifetime. We all agree that kids just grow up too fast, don't we? ;)
When Rozanne's parents contacted us about getting Family portraits done for their baby's upcoming 1-year-old birthday, we welcomed them to make an appointment and come by our studio for a non–obligatory chat, as we usually do for all parents who contact us to know more about engaging our photography services. As we offer custom portraiture for families, we always encourage this so that we can discuss exactly what you are looking for from your session. We can then design and personalise it for you and your family. This also gives you the opportunity to meet us and see our studio, ask tons of questions and review the products we offer before you make an informed decision. It is important for you and your family, especially your young children, to feel comfortable with us, and that you like our Family photography style.
When Rozanne first met us at our studio, she was shy and reserved, as she usually was with new people. We took time to get to know her and play with her. The next time she met us, which was during her photoshoot session, she took some time to warm up, but soon enough, she was having lots of fun on our set, and even invited us to play along with her. We absolutely love children, and we are so blessed that children love us too and we get along well together!
Sharing some very happy portraits of this sweet family. We love how their Family portraits really showcase their personalities and family dynamics.
We were so glad that our clients loved their Family portraits when they viewed them during their viewing session at our studio. They showed us a picture of their wall space where they intended to display their Family portraits, and we worked together to create a canvas wall art which would be suitable for them. It is important for us to know the size and colours of your wall space(s), so that your customised wall art would match your home interior design.
Our happy and satisfied clients shared these beautiful pictures of their canvas wall art with us.
Mum told us that they hung the portraits up at night, and the next morning when Rozanne woke up and went to the living room, she was so thrilled and over the moon to see the portraits that she kept smiling and pointing at them excitedly!
It is so encouraging to know that our work brings so much joy and smiles to our clients' lives – which is also why we always advise clients to obtain canvas wall art for their homes, instead of a CD or USB flash drive of digital files which usually sits in the drawer, untouched and gets forgotten after 3 months. When we display our Family portraits on our walls, we get to see them everyday. It brings smiles to us when we see them after we reach home from a long and hard day of work. More importantly, it boosts our children's self-esteem, knowing that they are a valued and important part of their family unit whenever they see their Family portraits at home. They understand the uniqueness of their own family and its story; they know where they come from, and where they belong.
We are sure this will be one of the best and most precious gifts parents can give to themselves and their child as a 1-year-old birthday present. Congratulations on your graduation from babyhood to toddlerhood, Rozanne!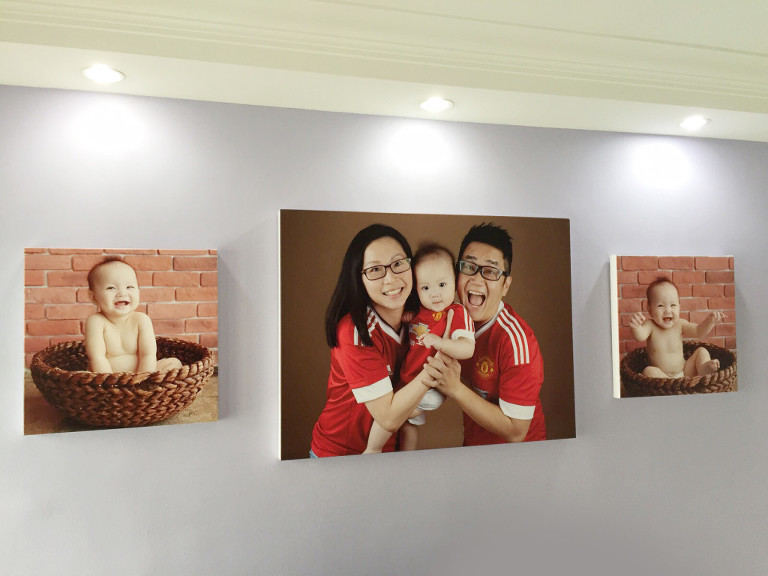 For your very own custom Family portraits at Orange Studios, give us a call at 8606 6950 to make an appointment for a non-obligatory chat at our studio. We look forward to adding more joy and colours to your home!